admin | Modified: December 19th, 2018 | Office 365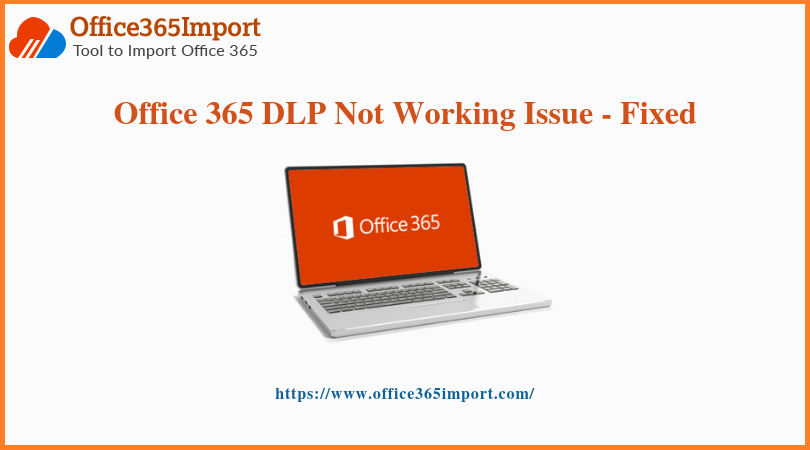 Data Loss prevention or DLP is a brilliant technique to save the sensitive and critical data of any business. Everyone wants to protect their data from leaking or being misused. Now, MS Office 365 is also powered with Data Loss prevention or DLP service. It is used for deep analysis of sensitive content without affecting the other users who are working on the rest of the content. DLP service is extremely helpful in cases where the word or phrase is unique or not similar such as a credit card number, financial documents, unique employee ID, health record or top-secret file naming convention. Users can identify, track and protect their confidential contents that are stored in the Cloud.
Despite its features, sometimes Office 365 data loss prevention (DLP) is not in working condition. There are many reasons that can stop or interrupt the smooth working of data loss prevention service. Hence, this article is going to explain the all possible reasons and their solution to resolve the Office 365 DLP not working problem. Keep reading to know more.
Note: Use Office 365 Import Tool to move data from Microsoft Outlook (any version) to O365 account in few clicks step by step.
Different Solutions to Fix Office 365 DLP Not Working Problem
There are many situations where users face Office 365 Data loss prevention, not in working state issue. The solution to this problem is associated with their causing situations. Thus, in order to resolve this hurdle, first, you need to determine the situation, and then implement the solution accordingly.
Situation # 1: Issue Occurred After Installing MS Outlook Separately
In this circumstance, you need to activate the Office 365 DLP policy. It can be done by following these two steps:
Step 1: Enable the Policy Tips in Microsoft Outlook
First of all, click on the File menu >> Options >> Mail.
After that, search the MailTips section from the entire screen.
To activate the DLP service in Office 365, click on the MailTips Option button.
Now, go to the Select MailTips to be displayed and click on the checkbox next to that policy tip notification option.
Further, click on the radio button next to the Display automatically when MailTips apply.
Check other settings MS Outlook, if they are correct then proceed to the next step.
Step 2: Check the MS Office 365 Account Settings
At first, open the Office 365 tenant where Office 365 DLP not working problem exists.
Then, open the policy of DLP or Data Loss Prevention service.
Now, click on the DLP policy tan and select a requirement mode.
Finally, your 'Enforce or Test DLP policy' feature of Office 365 is enabled.
Situation # 2: Policy Tips is Disabled in the DLP Policy
If the Policy Tips option is not enabled in Office 365 DLP, then perform the following steps to resolve this Office 365 DLP policy tips not working issue:
First, open the DLP Properties window under the Exchange Online Protection. This is situated in the 'Choose the mode for the requirement in this DLP policy' option.
After that, click on the checkbox next to the Enforce or Test DLP policy option. It will enable the DLP policy tips and fix the error message.
Situation # 3: Requirements of Sensitive Data for DLP Doesn't Meet
There are some scenarios where Office 365 DLP not working issue occurs when the threshold of the confidential or sensitive content for DLP does not meet. In order to fix the issue in this situation, you need to perform the given below steps:
First of all, go to the Exchange Admin Center.
Then, click on the Compliance Management option and choose Data Loss Prevention.
Now, double-click on any of the one policy and click on Edit button. You can also select more than one policy.
A DLP Policy page will open; here you need to click on the Rules option.
Finally, the Office 365 DLP policy tips not working issue will be resolved successfully.
Must Read: Microsoft Office 365 Collaboration Tools
Wrapping Up
In this write-up, we have illustrated Office 365 DLP not working conditions and their possible solution. Users need to follow the resolution method according to the situation. If they do not know the exact situation then, they can implement each and every workaround one-by-one. In this case, the one technique that fixes the Office 365 Data loss prevention not working issue, will directly confirm the reason for the problem.