admin | Modified: December 19th, 2018 | Office 365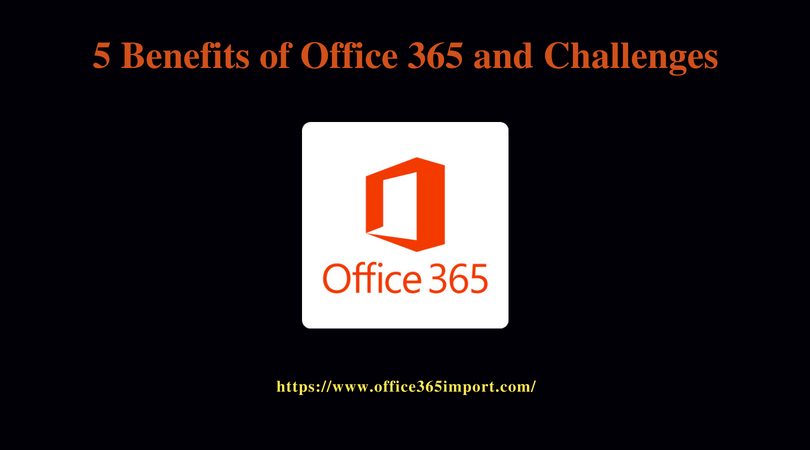 In this era of cloud computing, business organizations are shifting to Office 365 and similar productivity suites. Office 365 is a much talked about office productivity service from Microsoft. As there are many cloud-based productivity suites, users often face a dilemma about which service to choose. In this post, we will discuss the benefits of Office 365 and its challenges. We expect that users will be able to get their decision about Office 365 after reading this write-up.
Features and Benefits of Office 365
Microsoft's Office 365 is a cloud-based suite that has made the business communication and collaboration easier. Though its target users are various enterprises, personal users, students and for small business. Some of the prominent components of Office 365 are:
MS Word
MS Excel
MS PowerPoint
MS Access
Outlook
Yammer
SharePoint
OneDrive
OneNote
Dalve
Office 365 Benefits for Business – Explained
Let's see the 5 major benefits of Office 365 E3 one by one.
Anytime, Anywhere Access: The biggest advantage of cloud-based services is that users can access their files from any device. There is no time constraint in this case either. For the people with an unstable Internet connection, Office 365 provides desktop-based applications. On these applications, users can work offline and sync to its online version when they get reconnected to the Internet.
Seamless Collaboration: Office 365 has opened a new gateway for uninterrupted and effortless collaboration among its users. Various co-operative tools and online applications make sure that multiple people can access a document at the same time and make real-time changes to it. Office 365 also keeps the record of edit history so that admins can keep track of every edit made by the employees.
Easy File Sharing: For any business, sharing files among the employees and employer is important. When you use Office 365, you will not have slightest of the problem to share files. All the files saved in Office 365 can be accessed by the users from any device. Moreover, Office 365 admins can control who can access which document and assign specific permission to each of the users.
Regular Automatic Update: The best way to stay secure from all the virus and malware is to use an updated version of the application. The same thing is applicable for cloud-based applications. Office 365 users do not need to worry about updates as they are the first and immediate ones to receive the updates of all Microsoft products. Thus, they remain up-to-date and stay protected from all the latest malware.
Affordable Cost: Office 365 is basically a combination of various Microsoft products. If an organization is to purchase these services separately, that will cost them more than the Office 365 plan. Moreover, there are different plans for businesses of different sizes so that organizations can choose according to their need. Office 365 plans are also adjustable that supports scalability of your organization.
Let's Know the Challenges of Office 365
Like everything else, Office 365 users also face some challenges. Some of the major issues faced by Office 365 users are:
Mandatory Internet Connection: In order to access Office 365, users need to have stable Internet connection. If someone is traveling to an area with no Internet, they will not be able to access Online Office 365 products.
Compatibility: Though Office 365 renders support for Windows and Mac OS, some of their older versions are not compatible with Office 365. In case you still use some old operating system like Windows XP/ Vista/ Mac OS X, you cannot use Office 365.
Data Security: Though Microsoft has a data retention policy enabled, it has its own limitations. The deleted data gets permanently removed after a certain time. Moreover, the policy changes quite often so for most users it is difficult to track.
How to Move Data from Desktop of Office 365 Cloud
If we compare the pros and cons of Office 365, its benefits outnumber the disadvantages. Due to Office 365 benefits mentioned above, many users, companies, and organizations moving their data from the desktop to Microsoft Office 365 cloud.
According to the survey of Google, we found that most of the user is working on Microsoft Outlook and rest on other email clients. So, sometimes people may face the trouble of importing PST file into Office 365 account. To solve this issue, one effective tool is present in the market named as Office365Import. Users can take the help of this application to export data to Office 365 from a system or a network.
Related Article: Benefits of Migrating to Cloud
Final Words
From the above stuff, now we are aware of the benefits of Office 365 and challenges. Also, it is clear that Office 365 contains more pros than cons. Therefore, users should not have any confusion about moving to Office 365. If Outlook users are shifting to Office 365, they need to export their data to Office 365. In order to do that, Office365Import is a great option. Using this tool, users can easily transfer their Outlook data files to Office 365 effortlessly.