Compare G Suite vs Office 365 – Find Out Which One is Better & Why!
admin | Published: January 20, 2020 | Office 365
Are you looking for a detailed G Suite vs Office 365 comparison to find out which one is better for business productivity? Are you finding it difficult to decide which one is more secure, has more features and worth the value? If yes, then you are at right place as in this article, we will compare Office 365 vs G Suite (formerly known as Google Apps) so that you can decide which one best fits your business requirements.
Topics Covered in Post
Feature Comparison – G Suite vs Office 365
Both the business productivity suites offer a wide range of features which allows you to run your business efficiently. Let us have a look at what they offer and see which one offers more features.
1. Professional Business Email Address
Office 365 – Outlook for Business
Microsoft Office 365 enables you to create business email address with your domain name. It has the option of 400 email aliases for every user.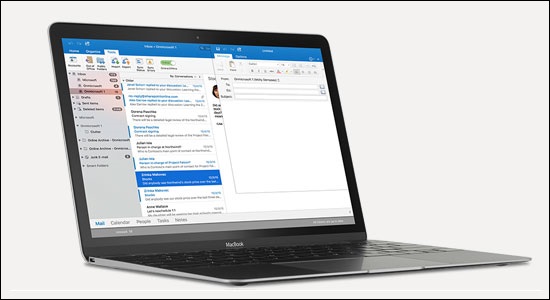 It offers Outlook for email communication which is available as a web-version, fully featured desktop version and mobile application. Moreover, Outlook's desktop application is quite popular and user-friendly for users whereas G Suite does not offer any desktop email application.
G Suite – Gmail for Business
G Suite also offers its users to use existing domain name or create new domain name to create email accounts. It offers 30 email aliases for each user.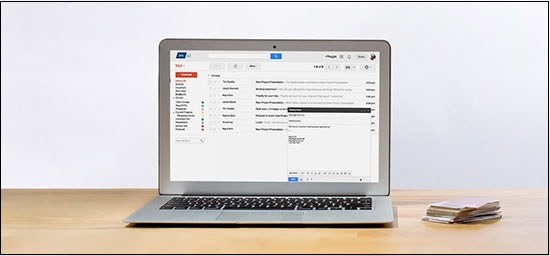 G Suite uses same web application as Gmail for email communication which means users will get same interface with business email address. Your email ID will work with Gmail mobile application as well.
If you prefer using your email on desktop-based email client, then you can opt for Thunderbird or Microsoft Outlook.
2. Cloud Storage & Sharing – G Suite vs Office 365
One of the most important and useful features of using cloud productivity suite is file storage and sharing. It enables users to save their files on cloud and it makes it easy for them to access those files from anywhere, using any device.
Additionally, both Office 365 and G Suite makes file sharing and storage easy.
Office 365 – OneDrive Storage
Microsoft Office 365 provides 1 TB cloud storage on OneDrive for each user with every plan. It is a lot of storage, but it is not unlimited as offered in G Suite. Along with that, users get additional 50 GB of email storage for every user which is separate from 1 TB cloud storage.
It uses OneDrive for storage and manage files and comes with Web, Desktop and mobile application. You can easily sync files using OneDrive and share them with other OneDrive users.
In Microsoft Windows 10 or 8 PC, OneDrive comes integrated in these OS which makes file syncing and sharing even more easier.
G Suite – Google Drive Storage
G Suite provides 30 GB of cloud storage space for each user with its basic plan and unlimited storage with business and enterprise plans. If you have less than 5 users with business or enterprise plan, then you get 1 TB storage space for each user.
It uses Google Drive for storing and sharing files. Moreover, it provides applications which can be downloaded on smartphones, desktop, tablets and can be used to access the Drive files. These files can also be made available offline.
Google Drive also makes it easy for the users to share files with their colleagues or other users. However, it has a better search feature to search files, shared folders and team drive.
Read More: How to Convert User Mailbox to Shared Mailbox & Shared Mailbox to User Mailbox
3. Office 365 vs G Suite – Business Applications
Both Office 365 and G Suite offers various applications to its users. You can create spreadsheets, documents, presentations, etc. which you can edit and save directly in cloud.
Office 365 Applications
The O365 business subscription gives access to Microsoft Office apps which includes Word, Excel, Outlook, Powerpoint and OneNote. These applications are still the most complete and feature rich applications for desktop users available in the market.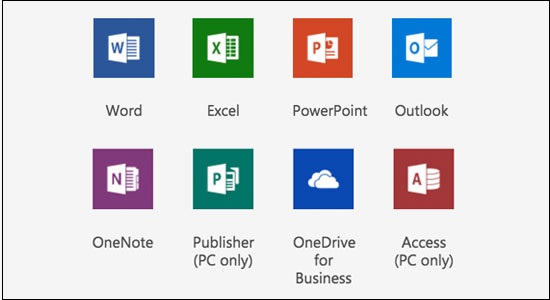 Office 365 also provides web & mobile based versions of these applications as offered by Google Docs. However, the desktop applications of Office 365 set a very high standard and it can be a deciding factor to choose either of the productivity suites.
G Suite Applications
G Suite also comes with several applications such as Gmail, Google Sheets, Docs, Slides, Calendar, etc. These applications come with web versions and can be used on a desktop browser in any operating system.
Google also offers mobile applications for each one of them (both Android & iOS).
There are offline versions of some apps as well that can be accessed in browser. But the offline availability is limited, and you have to make each file manually available for offline editing.
G Suite doesn't provide support for desktop applications like Microsoft. So, it is more suitable for remote teams which store their entire data in cloud only.
4. G Suite vs Office 365 – Collaboration Tools
Office 365
The collaboration tools offered in Office 365 shares the appearance and behavior of its desktop applications. It enables multiple users to work on same document at same time. Users can also add comments, notes and suggestions with ease.
It offers Skype for messaging and video calls. Despite the fact that Skype provides free Skype-to-Skype calls and video conferencing, it does not offer free Skype-to-Phone calls. For that, you have to buy a Skype number along with credits to make Skype-to-Phone calls.
Important Note – Skype for Business is only available with Business Premium and Enterprise plans.
G Suite
It offers users with Hangouts with text messaging and video conferencing. It can also be integrated with Google voice which can help you to make free local calls and send messages in US / Canada.
G Suite users can also work on the same document at the same time. It provides option to leave notes and comments, make suggestions and review changes.
Another important feature while comparing G Suite vs Office 365 is that Google calendar and Google Keep makes it easy for the users to create tasks, events and timelines and share them with your colleagues or anyone else.
Office 365 vs G Suite Security Comparison
One of the major concerns for businesses is Security of their crucial data while using it on cloud applications.
Office 365 Security Features
You can enable Multiple Factor Authentication for all users in Microsoft O365. Additionally, it uses its own AI to read working habits of a user and detects if any doubtful activity takes place.
It also includes Data Loss Prevention Tool which helps to protect from data leaks and theft. Moreover, your organization can also restrict usage to devices issued by the company using its device management tool.
Another security feature while comparing G Suite vs Office 365 is that O365 also offers spam, malware and virus detection tools to check and scan all the documents, emails and attachments.
G Suite Security Features
G Suite uses top level of Google's cloud infrastructure which automatically detects any suspicious activity, phishing attempts, etc.
As an administrator, you can set various policies which helps to prevent unauthorized access to user's account. You can also enforce Two-Factor Authentication on all user accounts.
G Suite also supports data leak protection in which you can set specific keywords to block outgoing data. It also has spam, virus and malware detection tools to scan documents and attachments.
G Suite vs Office 365 Pricing
Office 365
Microsoft Office 365 comes in three pricing plans:

Pricing plans with annual commitment are mentioned below: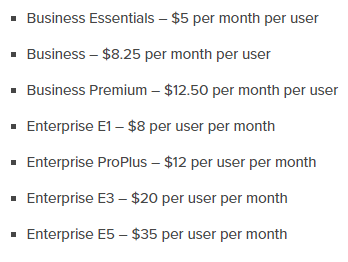 All these plans are available with 50 GB of email storage and 1 TB cloud storage.
G Suite
G Suite if available in three simple pricing options:

Here, the basic plan comes with 30 GB storage whereas business and enterprise plans come with unlimited storage only if you have more than 5 users else you will get 1 TB storage for each user.
G Suite vs Office 365 – Which One Offers More Value for Money?
Both productivity suites offer competitive pricing and wide range of features. It makes it extremely hard for businesses to decide which suite best fits their requirements. But there are some deciding factors which are explained below:
G Suite offers unlimited storage only in business and enterprise plan that too only if there are more than 5 users. Whereas in basic plan, it only offers 30 GB of storage space. It does not provide any desktop-based email application which makes it difficult for the users to access their emails without internet connectivity.
In case of Office 365, it offers 1 TB of cloud storage with all its plans which is a lot of space. Additionally, the desktop-based versions of its applications are extremely popular which provides it edge over G Suite.
Important Note: If you have PST file(s) and want to upload PST files into Office 365, then you can take help of Office365Import tool and upload your data effortlessly.
Conclusion
We have explained G Suite vs Office 365 comparison in detail in this article and we believe that both the business productivity suites are great. They enable you to access your cloud data from anywhere and using any device.
We believe that G Suite is better for small businesses as its basic plan offers best value for its applications. It is much easier to use as many users already use many of their applications like Gmail, Google Drive, Google Photos, etc.
Whereas, Office 365 is more suitable for medium and large businesses where the employees work on Windows PC. Their desktop-based applications can also be the deciding factor as they offer top-notch features and user-friendly interface while talking about G Suite vs Office 365.